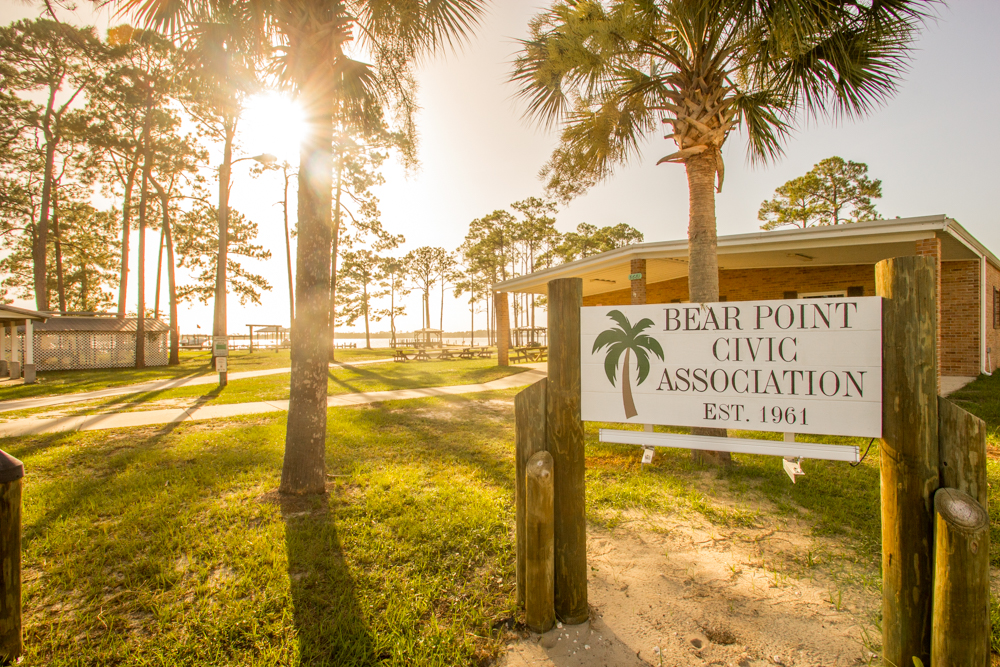 Bear Point: The Best Dang Neighborhood in Orange Beach AL.
As a homeowner and Real Estate agent living in the Bear Point neighborhood of Orange Beach Alabama, you may think I am a little biased.  Perhaps.  But let me list out the reasons why I wholeheartedly believe Bear Point is the "best dang neighborhood in Orange Beach."  If you are considering a move to the area, or looking for a second home, I think you should start your search here.  These are the reasons why.
1. Secured Private Boat Launch
If you have ever tried to put your boat in the water in Orange Beach during the thick of the Summer you will KNOW it can be difficult.  Once you are able to get your vessel launched, you will face the next issue: Finding a spot to park your trailer for the day.  The space is quite limited at the public boat launches in Orange Beach.  Often boaters are faced with leaving their trailer on the street side, or down the road, and even in the Publix grocery store lot (where they have started to tow, which is not a fun realization to come back to after a full day on the water).  The value of having your own private boat launch is HUGE!  Bear Point is one of only a handful of neighborhoods that offer this perk.  Here are a few other neighborhoods that also have launches.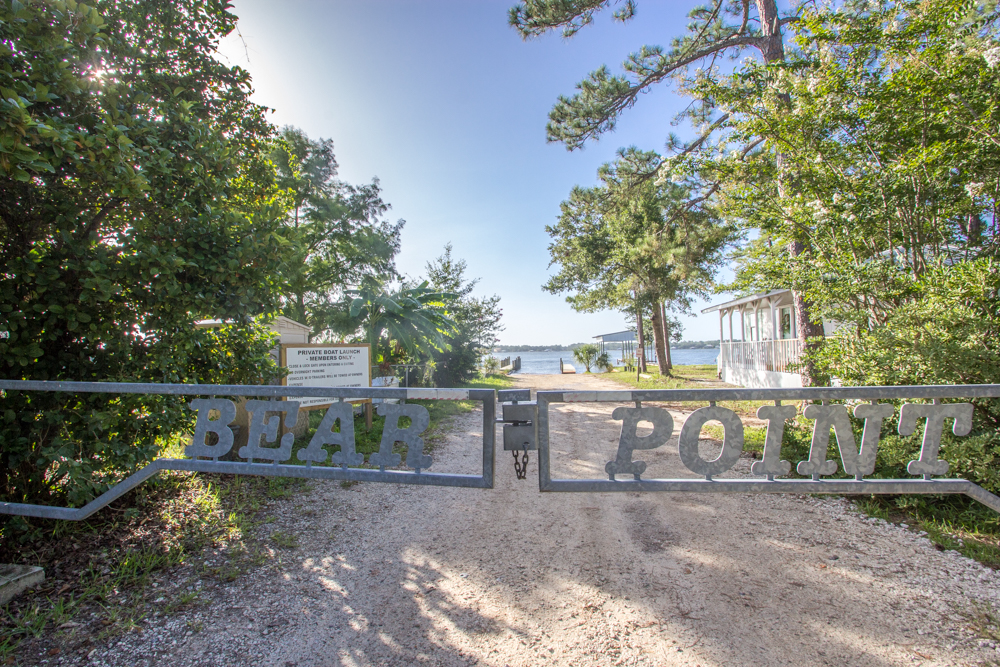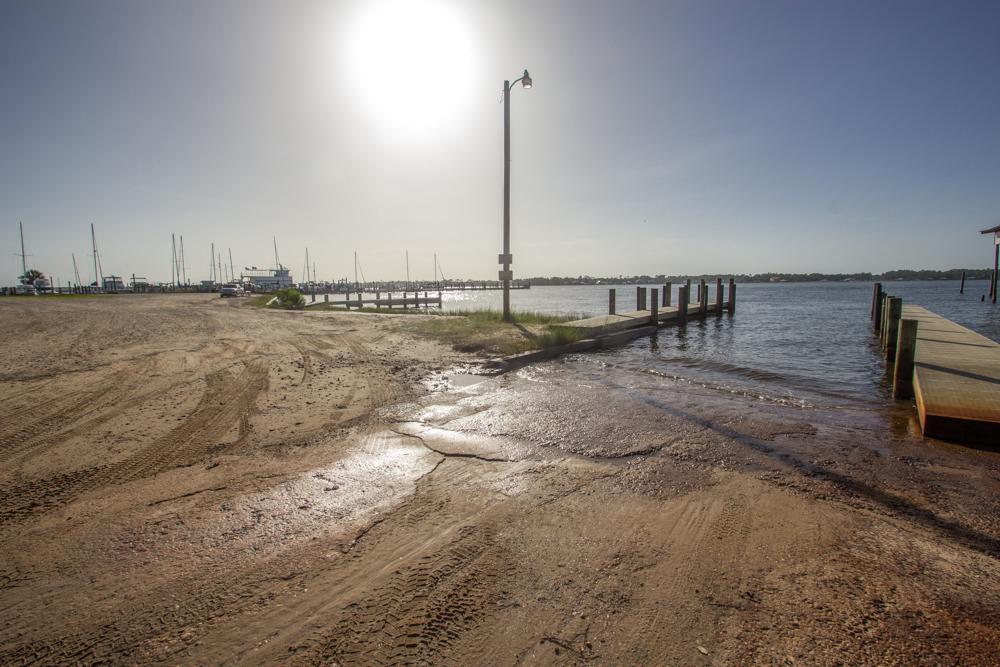 2. Private Beaches!
I do not know of another neighborhood in Orange Beach that has a private beach for its homeowners. Let alone two!  Our Bear Point Civic Association has recently added a second "live" beach area where there used to be a bulkhead with stairs.  This addition to the neighborhood is incredible!  The beaches are members only and the public is not allowed to utilize these areas.  (Friends are welcome when accompanied with members).
My husband and I learned the true value of having our own little beach a few weeks back when we drove for HOURS looking for a parking spot at any of the public beaches up and down the Gulf Coast.  After nearly 3 hours we eventually gave up and returned home to our beach.  We will NOT be doing that again.  Our beach is on the bayside (Arnica Bay), so we don't have worries of rip tides or under toes, the jellyfish are a RARE sight, and while I'm sure there can be other marine life there, I personally have never worried about them like I do when I am in the Gulf.
3. Dock Store & Marina
Another feature in the Bear Point neighborhood that cannot be found elsewhere is the Dock Store and Marina.  Living in a tourist town where the roads are sometimes grid locked, we have realized how nice it is to have the dock store just a couple blocks away.  We will oftentimes skip getting out in the traffic to grab refreshments, bread, milk, bacon, ice- you name it!  Convenience is a nice thing to have!  Along with a number of grocery type essentials you can also find fishing and boat related items, clothing, and more.  Need to gas up your boat before you head out? You can do that here also!
If you are wanting the convenience of getting in your boat and going without having to launch every-time,you can rent a slip from the Marina as well!  Rental slips are available nightly (should you want to keep it in the water for the weekend), or monthly.  You can find out more about Bear Point Harbor Marina Here.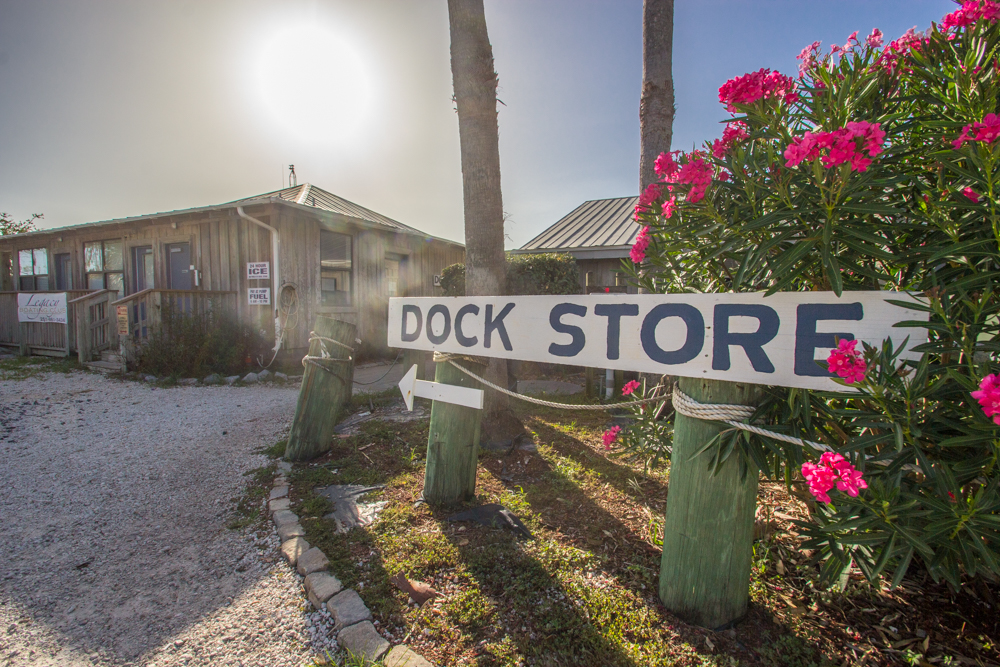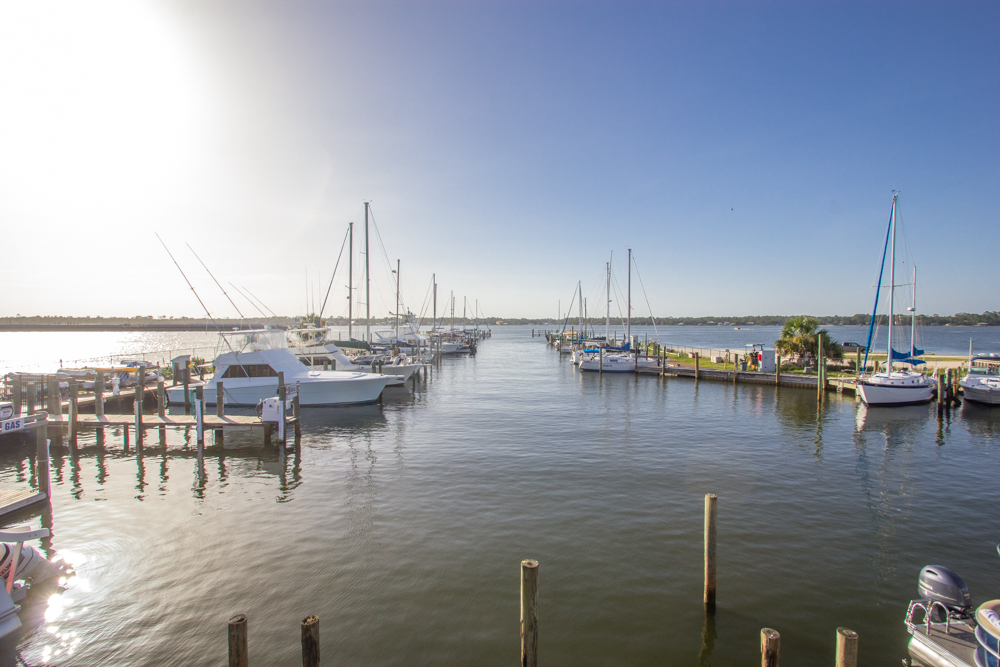 4. The Neighborhood Restaurant! Oso at Bear Point Harbor
How does having your own restaurant and bayside tiki bar with daily live music sound?  Um yes! This is one of my favorite perks of the neighborhood!  Not only is the food outstanding, but the atmosphere is incredible, the people are amazing, and the music is top notch.  But the sunsets? You have to see them to believe it.  The best in the area.  Come and see for yourself.  Check out the menu here, and make plans to head to Oso ASAP!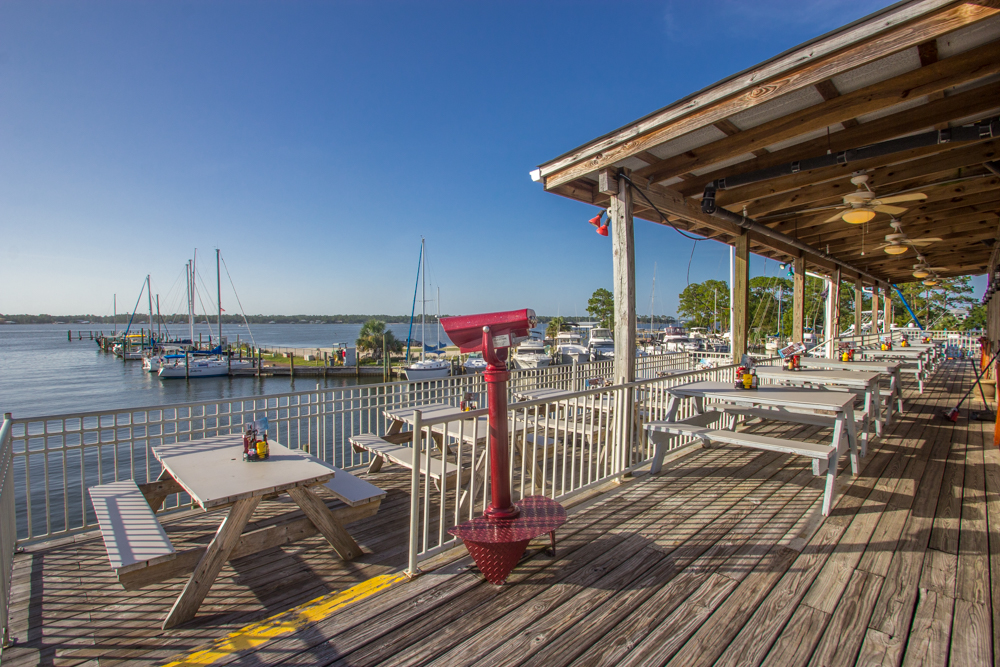 5. Optional and Low HOA Fees
While Bear Point boasts of tons of neighborhood amenities, to recap: Two private beaches, Private and secured Boat launch, neighborhood park with volleyball, horseshoes, grilling pavilions etc, Swimming Pier, Fishing Pier, Civic Building available for member use, neighborhood Dock Store, Marina and Restaurant (although they are separate from the Bear Point Civic Association and not included in dues).  The fees are not only option, but LOW.  To utilize the aforementioned amenities you must choose to become a Bear Point member.  There are two separate choices in doing so.  Boat launch use, or non-launch user.  If you do not have a boat and will not be utilizing the launch, the fees to utilize the other amenities is $60 PER YEAR.  If you will be using the launch, your annual membership is only $120 PER YEAR.  Incredible.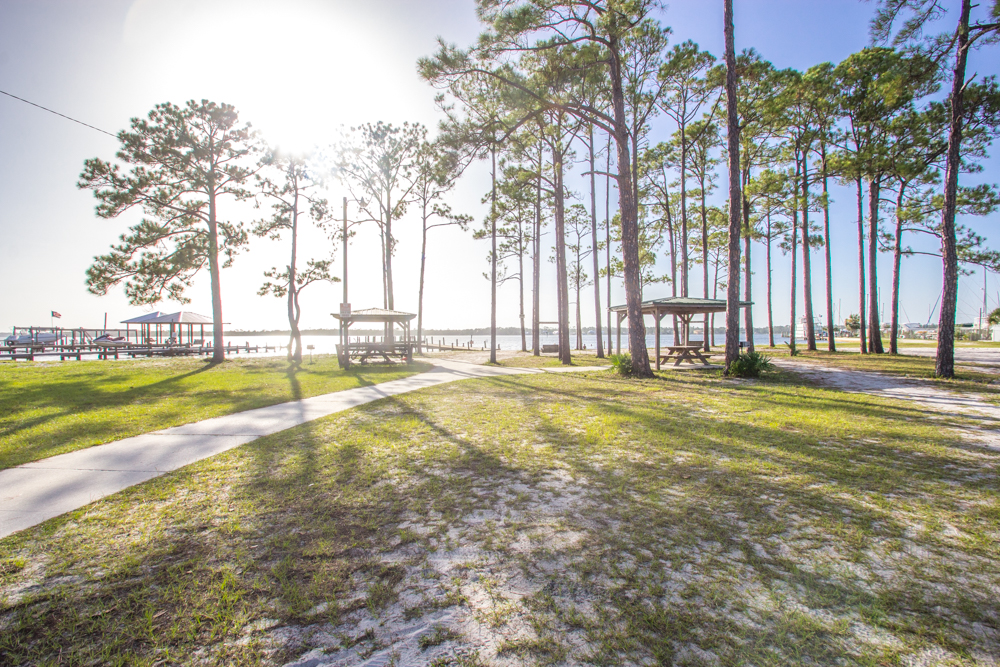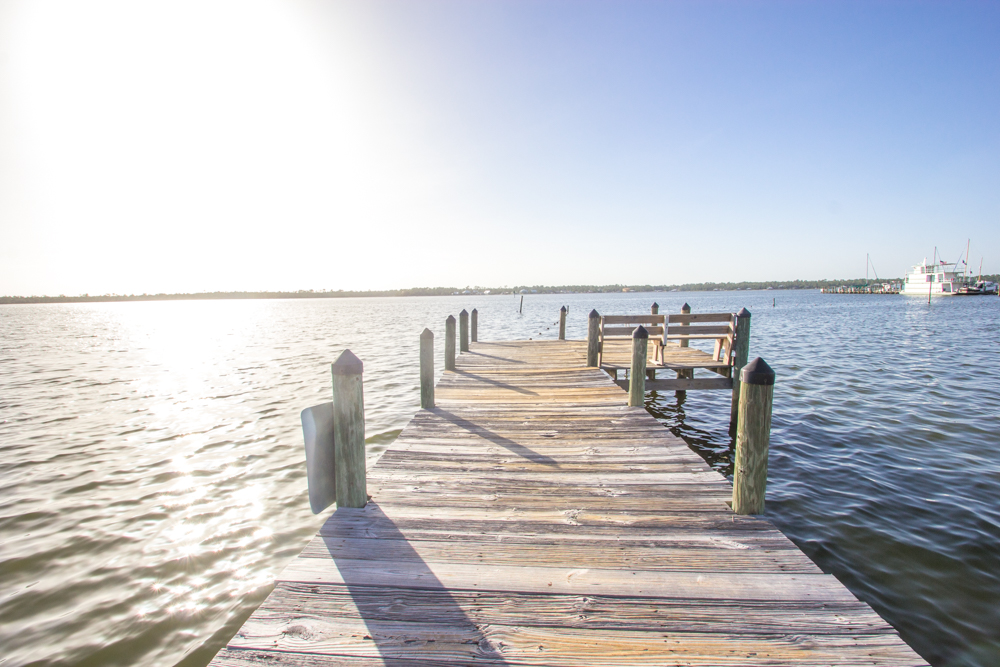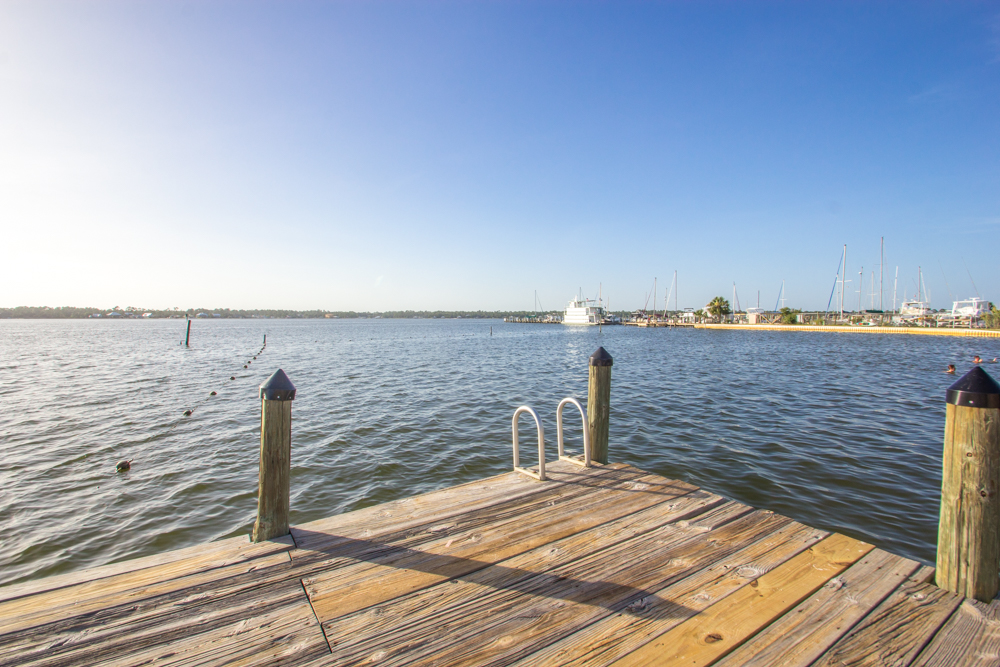 6. Fun Neighborhood Events
Bear Point is no stranger to having a good time.  There is ALWAYS something going on.  Our Civic Association is great at planning fun events for the member/homeowners throughout the year.  Some events to name a few: Christmas and Halloween Golf Cart parades, Golf Cart Poker Run (to raise money for the veterans), July 4th music in the park with BBQ plates and Smoked Butts for purchase. In addition to these annual events, there are a number of other contests, games, and fun added throughout the year to keep our neighborhood camaraderie alive and well!
7. Two Kayak/Canoe Launches.
Two of the twelve canoe launch sites along the Orange Beach Canoe Trail are located in Bear Point!  Launch sites number 6 and 7.  One is located on the North side of Bear Point on North Bayshore, while the other is on the south side at the end of Mississppi Ave, on S. Bayshore.
8. Breathtaking Sunsets!
There is no wonder why you will find dozens of golf carts parked bayside in Bear Point at sunset time.  This is a ritual that can be witnessed nightly.  If you move to Bear Point, you too will find yourself buying a golf cart, and heading down to the bay in the evening to join in wonder with the rest of the "sunset crew." Guaranteed.


Ready to live in Bear Point too? Check out the available homes for sale:
Sorry we are experiencing system issues. Please try again.
Give me a call to view Bear Point homes today!
~Agent Alisha

How much are HOA fees in Bear Point
The HOA in Bear Point is voluntary. But in order to have use of the amenities, residents must apply to become members and pay an annual fee. If you do not choose to use the boat launch, your annual fee is $60. The fee for the year including the boat launch is $130
Does Bear Point have a beach?
Yes! Bear Point has two beach areas for use by the resident members and their guests. Wristbands are required and enforced.
What is the average home price in Bear Point?
While the prices vary, currently there are many new homes being built in Bear Point. The new homes currently list for around $400k. Homes on the water can list upwards of $1M, and there are still a few small cottages and mobile homes that are listing in the mid $100-200k range. The average 50x100 lot in Bear Point is currently listing for around $100k.
Are the Boat Slips in Bear Point included in the HOA dues?
No. The boat slips are part of Bear Point Marina which is separate from the homeowners association.