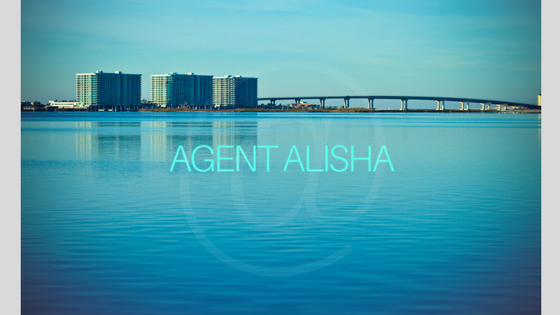 So You're Thinking of Buying an Investment Condo at the Beach…
Where to start? If you are new to this, you have come to the right place.  In this post I will cover my review of the top income producing ONE BEDROOM condos in Gulf Shores and Orange Beach Alabama.  One bedroom units are often the best place for first time investors, as they require the lowest initial investment.
Please keep in mind: I have collected this data from various rental management companies in the area.  The income numbers provided to me are not guaranteed, and events can and have occurred that can disrupt income producing properties for a period of time.
With that information out of the way, I will present to you my short list of 1 bedroom condos and their average income earned in 2016.  (When 2017 comes to a close, I will post a side-by-side comparison for you.
10.) Palm Beach: $26-31k
This beautifully landscaped condo complex sits right on the edge of Orange Beach as you are leaving Gulf Shores.  The complex was built in 2001 and houses 100 units.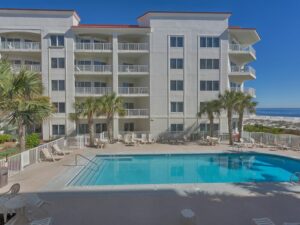 Unit # 14-D: $334,500
The 1 bedroom units in Palm Beach are sized a bit larger than typical one bedroom units boasting of over 800 square feet.  There is currently 1, One Bedroom condo available for sale in the complex.
9.) Tropic Isles: $26-32k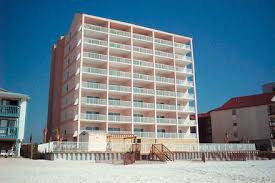 Tropic Isles Condo is located at: 433 West Beach Blvd in Gulf Shores. There are 40 units in this complex.  Tropic Isles was built in 2000.
The average income in 2016 was $26,000 while the high income I gathered came in at $32,000.  There are currently NO 1 bedroom condos available for sale at Tropic Isles.  However, the last 1 bedroom closed only yesterday (9/25/2017) and sold for $286,000.  The selling agent also reported that that particular top floor unit rented solely using VRBO (no management company) and pulled in $31,000 in 2016 with $25,000 already on the books for 2017.  The unit spent a short 5 days on the market!  Reported monthly fees at Tropic Isles are: $320.
8). Royal Palms: $29-33k
Royal Palms Condo is located at: 561 E Beach Blvd in Gulf Shores.  There are 101 units and the complex was built in 2000.
The average and high incomes nearly mirror Tropic Isles.  Also like Tropic Isles, there are currently NO 1 bedroom condos available for sale in the Royal Palms complex. Turnover in Royal Palms is low and the most recent 1 bedroom to close was nearly a year ago on: 12/5/16 for $275,000 after 90 days on the market (DOM).  Sidenote: If there is a condo complex that does not have any units available for sale- but you are sure it is the building you want to buy in- please email me, I will get on the horn and start trying to drum up a willing seller for you!
7). Emerald Skye: $28-33k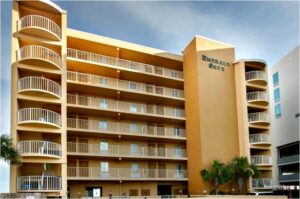 Emerald Skye Condo is located: 26034 Perdido Beach Blvd, Orange Beach.  This low density complex with only 36 units was built in 1996.
Currently Available for sale:
Unit #R21 List Price: $256,000
Unit #R14 List Price: $264,000
Condo Fee: $440 / mo
6). Clearwater: $28-35k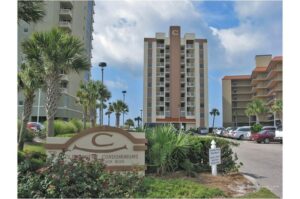 Clearwater Condo is located at: 517 E. Beach Blvd. Another low density complex with 32 units, Clearwater was built in 1998.
Currently available for sale:
Both units are currently listed @ $269,000.  The published monthly condo fee is: $488.00
Watch for Part 2 of this segment– containing the top 5 income producing 1 bedroom condos- coming up next…
In the meantime, here is some food for thought, when thinking about buying a condo in Gulf Shores or Orange Beach for investment.
Other monthly holding costs to consider:
Keep in mind, along with your mortgage (if you have one), taxes, and monthly condo fees, you will also likely have your monthly electric, and personal/contents insurance policy.  There is also the chance of a special assessment should the association decide to make a large improvement, or if large amount of damage is sustained etc.   If you did not purchase your condo furnished, you will need to purchase furnishings.  If the unit was furnished and in a rental program prior you should have minimal items to purchase, but some rental companies require their units to have certain things in each unit. For example: Crockpot, Blender, Coffee Maker etc.  Repairs to appliances, and sometimes replacing items in your unit may be needed as well.  Lastly let's not forget management fees- should you choose to hand your condo over to a manager.
To Pay a Management company or Not?
The above rental numbers quoted are prior to any management fees being taken out should you have a management company handle the logistics of making your reservations, coordinating your cleaner etc.  IF you have the time available to handle all rental inquiries, reservations, check ins/outs, maintenance, cleans yourself- VRBO is a good way to go to save on the management fee- but may not produce quite the income as noted above.  Your total income may end up being the same either way- but that is up for your own experimenting.  With a rental company you are paying for the convenience and freedom of not dealing with the stresses or renting your condo yourself.
Another thing to keep in mind:
In the state of Alabama you will also need a business license in the city your condo is located in.  You can find more on that here: Orange Beach and Here: Gulf Shores.
In my next post, I will cover the top 5 income producing one bedroom condos in Gulf Shores and Orange Beach – and the number one condo pulls in $36-48k annually!